​
​
This email found its way into your inbox because you were awesome and subscribed here OR here or maybe here. This email may contain affiliate links where I receive a small commission for recommending products I use & love at no extra cost to you.
​
---
Welcome to Growth Currency⚡ #47 — your weekly dose of Creator Candy 🍬🍭
And a special welcome to the 28 newest members of the Growth Currency⚡ newsletter community! Welcome Jay, Carlo, Gregor, David, Donald, Scott, and Teresa—to name a few!
I appreciate you being here and I hope you get what you're after. Send me a DM if not! 🙏
​
---
GROWTH INSIGHTS | The Future
Web3.
NFTs.
DAOs.
Crypto.
I don't write about it often, but I'm increasingly excited about the opportunities for creators with the unstoppable future that is happening right before our eyes with Web3.
But not all of us want to own Bitcoin or a cartoon ape image...
So what does Web3 mean for creators like us?
What does it mean for musicians, writers, podcasters, community builders, makers, and newsletter writers?
How can we leverage Web3 to make a living online?
When Growth Currency⚡ began in January 2021, I had no idea if or how I was going to monetize it. The only goal was to publish weekly and "just figure it out".
As the subscriber base grew, I began sharing affiliate links while also seeking out advertisers for the newsletter. I successfully landed the first advertiser with only ~650 subscribers and about eight months into writing the newsletter.
But the ad performed poorly (not a good audience fit) and it only brought in a modest $25. As I've experimented with ads since, I've increased rates and found advertisers that fit better with you—my readers. I've also earned a bit of revenue from affiliates.
But it still doesn't feel... right.
So last week I tweeted:
⚡ Dylan is Teaching Marketing to Creators 🚢

@growthcurrency
December 2nd 2021
The results?
→ Option A was unsurprisingly the winner with 74% of the vote, but...
→ Option D was the second most popular option with 16%
My two takeaways?
1) Most people are fine with the traditional media model: free content with ads & sponsorships (kind of yawn, though... right?)
2) A subset of people are interested in investing in a community model via community tokens.
95% of media businesses = Option A business model ("if it ain't broke...") — but what if there's a better option? It's a helluva lot more interesting to have your subscription fee go towards ownership or stake in the business, isn't it?
Case Study: The Tilt
​The Tilt is a great example: They launched a newsletter first—then added the $TILT community token as incentive to spur on subscribers AND build a community of invested partners.
They now have…
→ over 12,000 newsletter subscribers
→ over 1,000 Discord members
→ over 1,200 $TILT coin holders (on Rally.io)
And I'm one of them. Safe to say I wouldn't be a coin holder or subscriber if not for the initial coin incentive.
​
It's got me thinking about how to emulate this model for this newsletter. The wheels are turning...
→ Maybe this newsletter becomes a membership with a $GRWTH coin and you get stake.
→ Maybe this newsletter subscription comes with the option to own an NFT for additional perks (profit-sharing? content partnerships? community access? ad space? guest post?)
→ Maybe none of these things 🤷‍♂️
Onward...
So how can you leverage Web3 in your content creation and online pursuits? I'm not a futurist, but Web3 is quickly becoming our present and I need to consider the implications and opportunities, and you might want to as well.
Got any ideas you want to bounce off me? Reply to this email or send me a DM! I'm no expert in this space, but learning more and more every day.
---
Check it out → The Ultimate Creator Database of Awesomeness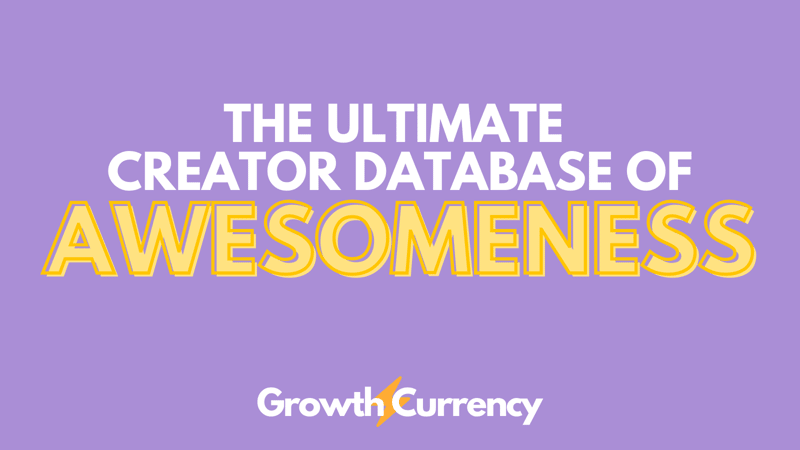 I've published 47 editions of this newsletter with at least 5 links per edition.
That means I've curated more than 200 links to helpful…
» tools
» guides
» articles
» courses
» communities
to help YOU—the modern day creator.
Now I've captured them in what I'm calling The Ultimate Creator Database of Awesomeness!
---
[#Ad] Create immense clarity, confidence, and momentum for your freelance business in UNDER 30 minutes a day, for 7 days.
Matt Lady of Ventursom will teach you how to prep, embark, and navigate your personal AND business life as a freelancer with daily lessons & prompts so you can start to make money and earn back your freedom.
---
​
YOUR GROWTH CURRENCY ⚡ THIS WEEK
​NFTs and a Thousand True Fans by Chris Dixon of a16z
You've likely heard of Kevin Kelly's 100 True Fans essay (here it is, if not). In this short article, Chris Dixon offers three important reasons why NFTs offer fundamentally better economics for creators—getting us all closer to the modern day version of 1000 True Fans:
1) NFTs remove intermediaries
2) NFTs enable granular price-tiering
3) NFTs turn users into owners
​
---
​
​My EXACT FORMULA for making $10k per month with 1 online course with Create By Krystal
This isn't a video on how to build & sell a course that earns $10k/month—but it's a formula for how you can work back from your ideal MRR (Monthly Recurring Revenue), including the marketing strategy (funnel) to get someone into your brand's ecosystem.
---
​
​Scrintal — A new way to organize your thoughts, notes, and ideas. Sign up for the waitlist for this knowledge creation & sharing tool, based on the Zettelkasten system.
​
---
​
​How to launch on Product Hunt, a detailed Guide by Xavier Coiffard
Building a newsletter? Community? Tool? Course? Paid membership? You need to consider launching on Product Hunt. Do it right with this detailed guide that covers...
→ What days to launch
→ How to optimize your logo
→ The questions to answer in your Maker's comment
→ How to hit the homepage
​
---
​
​Podpage — Want to build a podcast website in 5 minutes? I noticed Jay Clouse created a dedicated website for his Creative Elements podcast—and it looks great. He used Podpage.
​
---
​
​Build Community In Public: The Secret To Trust and Awareness by Tom Ross
Great article that features some of the biggest benefits to building a community in public, along with 10 ways you can share your #buildinpublic journey.

---
​
​Time Billionaires by Anthony Pompliano
"A million seconds is like 11 days. A billion seconds is like 31 years."
(h/t to Dan Bustamante's KryptoLetter newsletter for this thought piece)
​
---
​
Are you measuring your content correctly? 🤔
[#Ad] Nudge cut their teeth on enterprise content marketing clients (helping them buy from creators like you) and now is opening up their tools to all content creators.
Content marketing is art & science AND business. Creators use Nudge to get measurement done right—from content focused metrics, automated insights, to benchmarks & conversions. Nudge is your complete solution.
​Explore at giveitanudge.com »​
​
---
Thanks for reading this week, and it means a lot you crushed this newsletter right to the bitter end.
Me and my family are in COVID isolation this week thanks to exposures at our daughter's daycare. Thankfully her COVID test came back negative today, but we are in for a long wintery week of WFH and keeping a 4 year-old entertained without 72 thousand hours of TV.
What am I getting at? Next week's newsletter might be... a repeat 😂
Or maybe a greatest hits? Not sure... but I am sure time will NOT be on my side. Wish me luck.
And in case you missed it, here are last week's most popular links:
#1: ​17 FREE Courses To Learn Digital Marketing by Ahrefs
​#2: ​​​​​​Your email newsletter is no longer important—it's vital: 11 reasons why by Ann Handley
Peace and platonic love,
Dylan
PS: